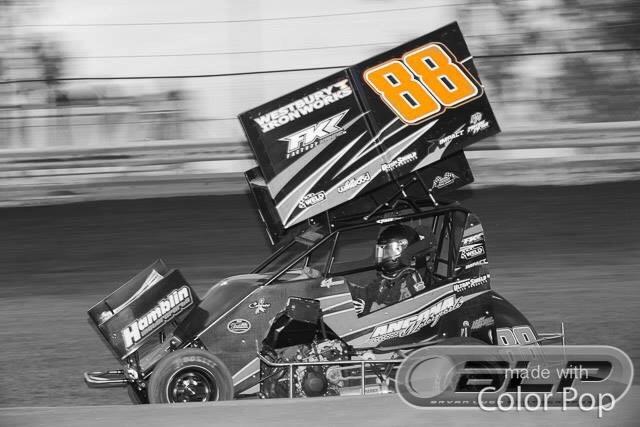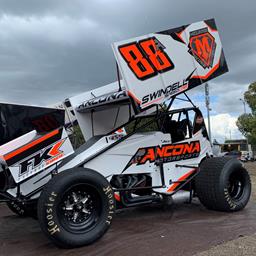 ---
Joey Ancona Racing Crowned King of California & Lemoore Raceway Track Champion!
By Maximum Dirt (Bryan Lugo Photography)
Lemoore, CA | September 20, 2016 – Nearing the end of his surreal 2016 season, Concord, California's Joey Ancona continues to add more wins and championships to improbable resume. Competing in a doubleheader this past weekend at Plaza Park and Lemoore Raceway, Ancona entered the weekend with hopes of locking up two of the three championships he's in the hunt for. Following another strong weekend that included back-to-back third place finishes, Ancona parked his Pace Chassis, Factory Kahne, Dryco Construction No. 88 in victory lane as he was officially crowned the 2016 King of California and declared the Lemoore Raceway track champion!
Opening his weekend on Friday night with a points race at Plaza Park, Ancona started off strong with a second place time of 11.478 seconds in qualifying. A third place heat race run would line the No. 88 machine up on the inside of the second row come main event time. Working furiously against the track conditions all race, Ancona was able to hang on to his third place position and leave Visalia with a podium score.
Closing the Lemoore Raceway regular season on Saturday, Ancona again timed in second at 11.559 seconds for time trials. A fourth place heat race finish would land Ancona on the outside pole for the 25-lap finale. Falling back to fourth at the start of the race, the talented 11-year old rebounded and fought back to score a third place finish once more on the weekend.
Using his nation-best tally of 12 victories and a countless amount of other incredible results, Ancona safely drove away with the championship titles in hand. Being declared the Restricted "King of California" and the 2016 Lemoore Raceway track champion is far from the end of Ancona's impressive season.
This weekend, Ancona and his Ancona Motorsports team will seek to close out the third and final California title, as they compete at Plaza Park's "Super 600 Nationals" on Friday and Saturday. Following that doubleheader, Ancona will commit fully to the Super 600 division as he makes the jump into the premier class of micro sprints.
EVENT RESULTS –
9/16: Plaza Park Raceway in Visalia, CA – Qualifying: 2nd (11.478), Heat Race: 3rd (4), A-Main: 3rd (3).
9/17: Lemoore Raceway in Lemoore, CA – Qualifying: 2nd (11.559), Heat Race: 4th (4), A-Main: 3rd (2).
UPCOMING EVENTS –
9/23: "Super 600 Nationals" at Plaza Park Raceway in Visalia, CA.
9/24: "Super 600 Nationals" at Plaza Park Raceway in Visalia, CA.
MEDIA LINKS –
Facebook: https://www.facebook.com/Joey-Ancona-Racing-375564655857870/
Instagram: https://www.instagram.com/joeyanconaracing/
ADVERTISING WITH MAXDIRT –
Proven as the best site in the Midwest, if not the entire country for micro sprint racing, Maximum Dirt is the go-to option for promoting your team/career on a broad scale. With nearly 5,000 subscribed members to www.maximumdirt.com and 6,000 combined followers on Facebook, Twitter and Instagram, your driver will reach thousands upon thousands visitors per day. If you would like more information or would like to begin promoting with MaxDirt, contact blane@maximumdirt.com today.
---
Article Credit: Maximum Dirt
Submitted By: Shari Ancona
Back to News