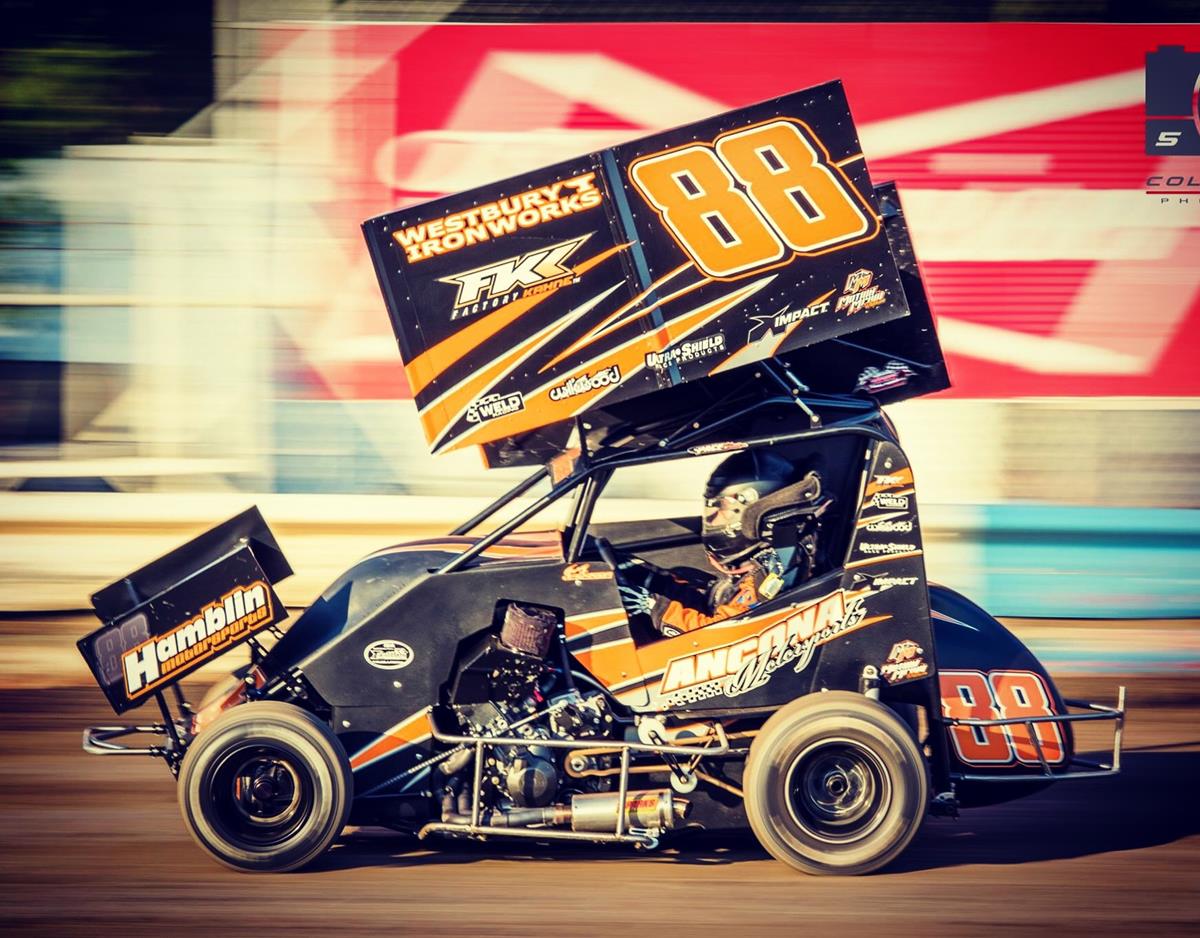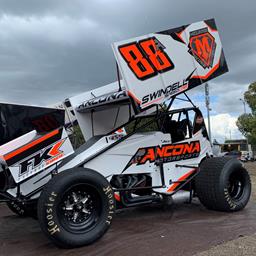 ---
Joey Ancona Scores Second at Lemoore, Leading King of California into Final Weekend!
Joey Ancona Scores Second at Lemoore, Leading King of California into Final Weekend!
Brian Walker – Maximum Dirt (Collin Markle Photography)
Lemoore, CA | September 13, 2016 – With only one race on the slate this past weekend, Joey Ancona and his Ancona Motorsports team loaded up to head for Lemoore Raceway on Saturday night. Looking to extend his points lead in the track championship and King of California Chase, Ancona would do just that as he set QuickTime and ran second in the 25-lap main event. Entering this weekend's Plaza Park/Lemoore doubleheader, Ancona holds a steady 27-point advantage in the Chase for the King of California, a strong 50-point lead in the Plaza Park title hunt and an insurmountable 82-point lead in the Lemoore track championship battle.
Making the trip to Lemoore Raceway for another Saturday night of racing, Ancona opened the night on top as he set QuickTime in qualifying with an 11.714. Following that with a third place finish in the heat race, Ancona would earn the third place starting spot for the 25-lap feature event.
Advancing into second on lap five, Ancona would give it his all to track down his friend Keith Day Jr. for the lead, but with pressure mounting for his runner-up position, he had to go into defense mode. Losing the spot with nearly five to go, Ancona rocketed back by and rightfully reclaimed second place. The Concord, California native would hang on in the final few laps to score a solid second place run aboard his Dryco Construction, Pace Chassis, Factory Kahne No. 88.
With a doubleheader at Plaza Park on Friday and Lemoore on Saturday set in stone for this weekend, Ancona will look to add several championships to his already impressive resume. While Visalia's Plaza Park still has three point races remaining, this Saturday at Lemoore will serve as the end of points racing for the track title and the Chase for the King of California. Ancona has already secured track title honors and will look to claim yet another King of California crown with a strong run.
EVENT RESULTS –
9/10: Lemoore Raceway in Lemoore, CA – Qualifying: 1st (11.714), Heat Race: 3rd (4), A-Main: 2nd (3).
UPCOMING EVENTS –
9/16: Plaza Park Raceway in Visalia, CA.
9/17: Lemoore Raceway in Lemoore, CA.
MEDIA LINKS –
Facebook: https://www.facebook.com/Joey-Ancona-Racing-375564655857870/
Instagram: https://www.instagram.com/joeyanconaracing/
ADVERTISING WITH MAXDIRT –
Proven as the best site in the Midwest, if not the entire country for micro sprint racing, Maximum Dirt is the go-to option for promoting your team/career on a broad scale. With nearly 5,000 subscribed members to www.maximumdirt.com and 6,000 combined followers on Facebook, Twitter and Instagram, your driver will reach thousands upon thousands visitors per day. If you would like more information or would like to begin promoting with MaxDirt, contact blane@maximumdirt.com today.
---
Article Credit: Maximum Dirt
Submitted By: Shari Ancona
Back to News